Mixxx 1.10.1 Released!
Today we are pleased to announce Mixxx 1.10.1, our latest stable release.
Mixxx 1.10.0 "LateNightBlues" skin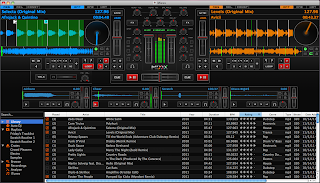 Download Mixxx 1.10.1 Now Available for Windows, Mac OS X, and Linux.
Mixxx 1.10.1 is a bugfix release that fixes some minor issues that have come up since the Mixxx 1.10.0 release. To see the full list of fixes, check our 1.10.1 milestone on our bug tracker.
What's next for Mixxx?
The Mixxx team is hard at work getting Mixxx 1.11.0 ready to launch. Among the new exciting features in 1.11.0 are: - Colored, 3-band waveforms. - Massively improved beat detection system. No more adjusting your beatgrids! - Improved AutoDJ support. - A session history feature for keeping track of what you play in your sets. - HID controller support. - Point-and-click MIDI mapping. - Advanced search in the library.
If you're feeling particularly brave and would like to try out a beta of Mixxx 1.11.0, mosy on over to the Mixxx forums and try it today!
Calling all Turntablists!
We worked hard to make sure that our vinyl control support is the best out there. How does Mixxx 1.10.1 compare to your current software for your scratching and turntablist needs? We want to hear from you! Please send us feedback, file a bug, write us an email, post to the forums, or chat with us.
Bugs and Feedback
You can help improve Mixxx by reporting any bugs you find. Your feedback plays a crucial role in Mixxx's development cycle, and even filing a quick bug report makes an important contribution to the project.
Join Mixxx!
We're always looking for new contributors who are interested in working on Mixxx. If you're a hacker or artist and want to work with a creative, enthusiastic team, hop on our IRC channel (#mixxx on Freenode) or sign up for our developer mailing list.
Comments
The comment section has been closed.