Mixxx 1.6.1 Released!
Hot off the heels of our last release comes Mixxx 1.6.1, bringing a handful of new features and bug fixes.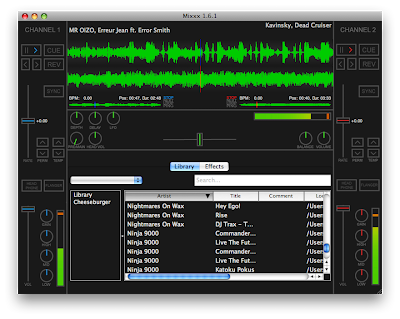 Some of the more important changes are:
The waveform view now zooms instead of speeding up when the pitch is adjusted. This allows the beat ticks to align when songs are beatmatched, and was a feature request we heard many times after the 1.6.0 release.
FLAC support for Windows users! (Another much requested feature, and you can thank Michael Pujos for his hard work on this.)
Fixed a problem where the waveform view went unresponsive (thanks to Mark Glines for the patch)
Properly read artist and title names from FLAC files (another one from Mark)
Fixed drag-and-drop on Windows with the "Simple" display mode.
Fixed a Hercules RMX problem with its MIDI mapping.
Fix for songs with short artist names.
We've also had some mild success with M4A/AAC support, but it's still going to be a while before that feature makes it into a release unfortunately. We're also still working on our OS X 10.4 (Intel) package still, but we do have an unsupported OS X 10.5 package for PPC available for download here.
Comments
The comment section has been closed.